Our auto detailing works include two main types of cleaning. Both of these are listed below for you to understand and opt for the ones that are best suited for your vehicle.
We handle all the interior detailing services of your cars. Listed below are our specialized services that we offer to you:
Seat treatment at $79.99
Carpet deep cleanse at $89.99
Interior spa special at $79.99
Interior conditioning at $79.99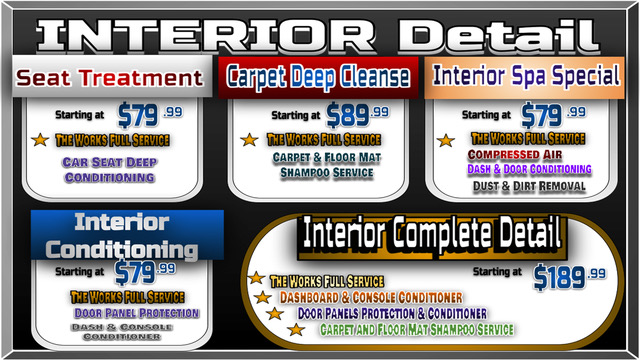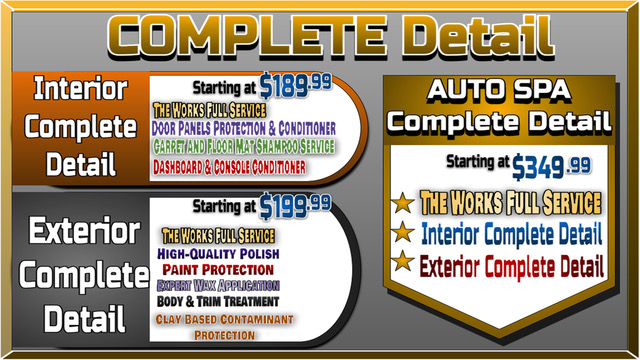 Complete Detailing at $189.99
Dashboard and console conditioner
Door panels protection and conditioner
Carpet and floor mat shampoo service.
Our expert team handles all the external services and maintenance needs of your vehicles. Listed below are our exclusive services that we provide to you: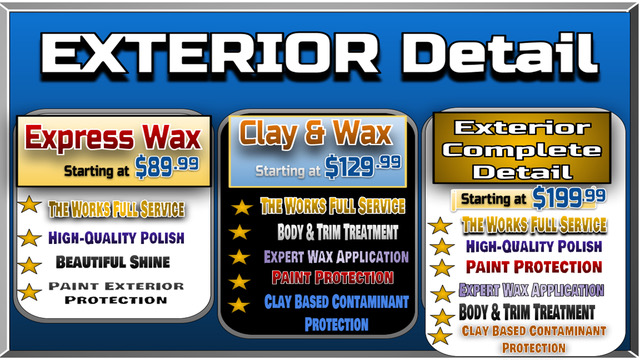 Quality polish
Full service works
Beautiful shine
Paint exterior protection
Body and trim treatment
Full service works
Expert wax application
Paint protection
Clay based contaminant protection
Complete Detail at $199.99
High quality polish
Paint protection
Expert wax application
Body and trim treatment
Clay based contaminant protection
Auto Spa Complete Detailing at $319.99
Our auto spa services will offer you both interior and exterior detail works at a very affordable price range.
Full-Service Works
Interior Complete Detail
Exterior Complete Detail
When you want to ensure your vehicle is thoroughly and completely cleaned, bring your car in for detailing with us.